The Equitable Community Engagement Toolkit was created by City of Philadelphia engagement practitioners and community members. To learn more about that collaboration, read the co-creation story.
"Community engagement" refers to a practice that connects City government to the communities we serve. And "practitioners" refer to the people who facilitate community engagement. Words like "our" and "we" refer to practitioners within City government. To learn more about the terms used throughout the Toolkit, reference the Glossary (XLSX ).
If you have other questions about equitable community engagement, email engagement.toolkit@phila.gov.
Get started
The Toolkit serves as a compass for equitable community engagement within City government. It provides guidance, stories, tools, and training on how to center equity in your work.
However, equitable engagement practices change depending on the community you're engaging. Meaning, the Toolkit isn't a set of step-by-step instructions for your work. Embrace the recommendations that serve your equitable engagement practice and set aside those that don't.
Begin by reviewing the equitable conditions guides. They're essential to understanding and using the Toolkit.
Mindsets: Learn how thoughts shape actions.
Power: Learn how power influences engagement.
Resources: Learn how to plan funding, staff, and time.
Then think about the challenges you experience in your engagements and explore the rest of the guides. Find guides to help address common engagement challenges below.
Seek support
The Toolkit sets our shared understanding of equitable community engagement within City government. It's a collection of guidance, stories, and tools to reference throughout your work.
The Toolkit comes to life through our relationships with one another and the communities we serve. That's why it's supported by a program, including our advocacy, community of practice, consulting, governance, and trainings.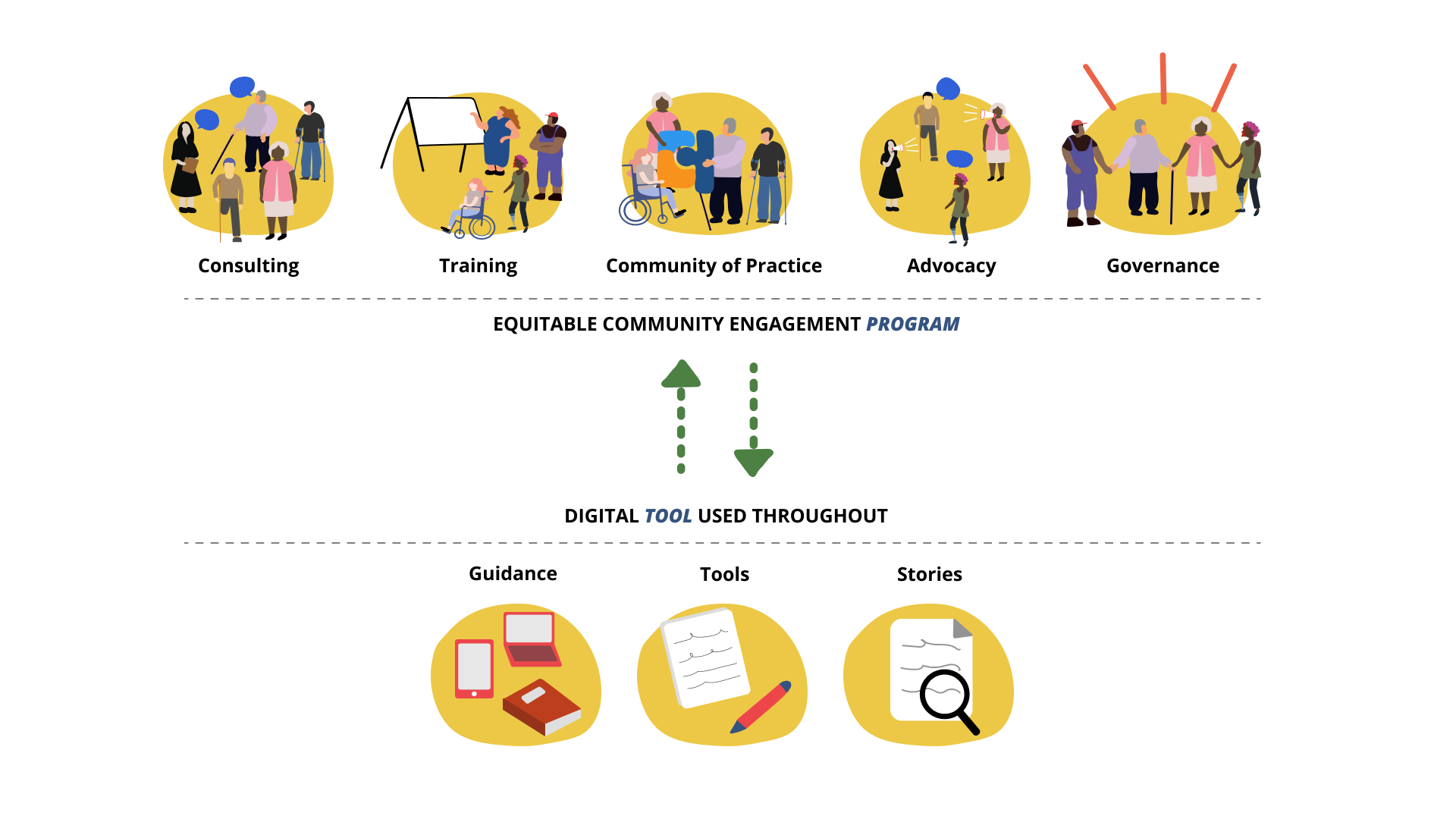 To truly advance equity, we must practice this work together. Practitioners can do that through a network of resources supporting our equitable engagement practice.
To stay in touch, sign up to receive the Toolkit newsletter. This bimonthly newsletter helps connect equitable engagement practitioners across City government and within communities.